News
Posted by Ben Wu on
As the aviation industry continues to evolve and advance, so does the technology used to make flying safer. One such example of this is the introduction of LED lighting in aircraft landing lights.Traditionally, aircraft landing lights were incandescent bulbs, but with the advent of LED technology, aircraft manufacturers and operators are making the switch to LED landing lights for a variety of reasons.LED lights have several advantages over incandescent bulbs. They are much more energy efficient, providing brighter and clearer lighting while consuming less power. This results in a reduction in fuel consumption, which not only benefits the environment but...
Posted by Ben Wu on
A: Pilots will keep the red, green and white navigation lights on all the time, night and day; even when on the ground. The flashing white anti-collision lights will be on anytime the aircraft is in flight.
Posted by Ben Wu on
Publish Date: June 29, 2020 | Category: Aerospace Engineering      Have you ever noticed the colored lights used on the wingtips of airplanes? Although there are exceptions, most commercial airplanes have colored lights on their wingtips. You'll often see either a green or red light on their wingtips that flashes in the night sky. Unbeknownst to most passengers, though, there's a reason why airplanes use red and green lights. The Basics of Navigation Lights The red and green lights found on the wingtips of airplanes are known as navigation lights. They are designed to increase the airplane's visibility to other pilots, as well as...
Posted by Ben Wu on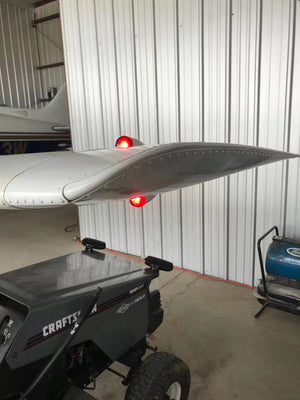 0 SHARES Share Tweet To sign up for our daily email newsletter, CLICK HERE Follow @marcberman Follow @SonOfTheBronx If you've been in an aircraft before, you'll notice plenty of lights installed in different external sections of a plane, especially during night travel. These various light fixtures in aircraft are what pilots and airport personnel use for safety and navigation.  There are two general categories of external lights in aviation. The first one is beacons or navigation lights, illuminated when the aircraft is operational. The second type is landing and takeoff lights, which improve plane visibility on or close to the...
Posted by Ben Wu on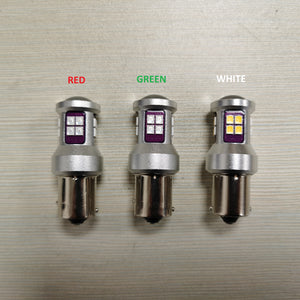 Different incandescent bulb Handxen LED Power 26W 4W Amps 1.8amps@14V 0.9amps@28V 0.28amps@14V 0.14amps@28V Lumen 400+ Life Span 30,000hours   LED Wingtip Nav Bulb -HX-BAY15S-18W  (Replace modle: 1512, 1524, A7512-12, A7512-24, W1290-14, W1290-28, 7079B-12, 7079B-24, MS25309-7512, etc)     LED Tail Position Bulb  -HX-BA15S-18W (Replace model: GE 305, 307, 309, 311, 1665, 1680, 1691, 1777, 982 , MS35478-307, 1939X, 1940 etc.)
---